︎
RECENT / UPCOMING:

---
July 12 – August 18, 2023


David Aipperspach, Claudia Bitrán, Dike Blair, Dennis Congdon, Angela Dufresne, Danny Ferrell, Jackie Gendel, Maggie Hazen, Christopher K. Ho, Tristram Lansdowne, Stuart Lantry, Shona McAndrew, Whitney Oldenburg, Sarah Pater, Jagdeep Raina, Paul Rouphail, Craig Taylor, Roger White, Ziyang Wu, Ping Zheng


CHART is pleased to present Bellyache, a group exhibition curated by Shona McAndrew, featuring work by twenty artists who were either peers or professors of McAndrew's at the Rhode Island School of Design.

"Everybody has had a bellyache. The trick is figuring out why. Is it an overindulgence in sweets or too much coffee? One's own body revolting against oneself? A bout of anxiety from an important and long-awaited phone call? One of the greatest sources of bellyaches for artists can undoubtedly be traced back to an anxiety of influence. Painters cannot help but sneak their heroes into each color choice and brushstroke, sculptors into every material choice or conceptual strategy. As such, I am interested in drawing upon a group of artists who I have learned with and artists who I have learned from. Using my cohort as a case study, I hope to witness how ideas and stylistic approaches can migrate through different practices and how micro-lineages form and fracture over time." - Shona McAndrew

︎ Press Release

74 Franklin Street
New York, NY 10013
chart-gallery.com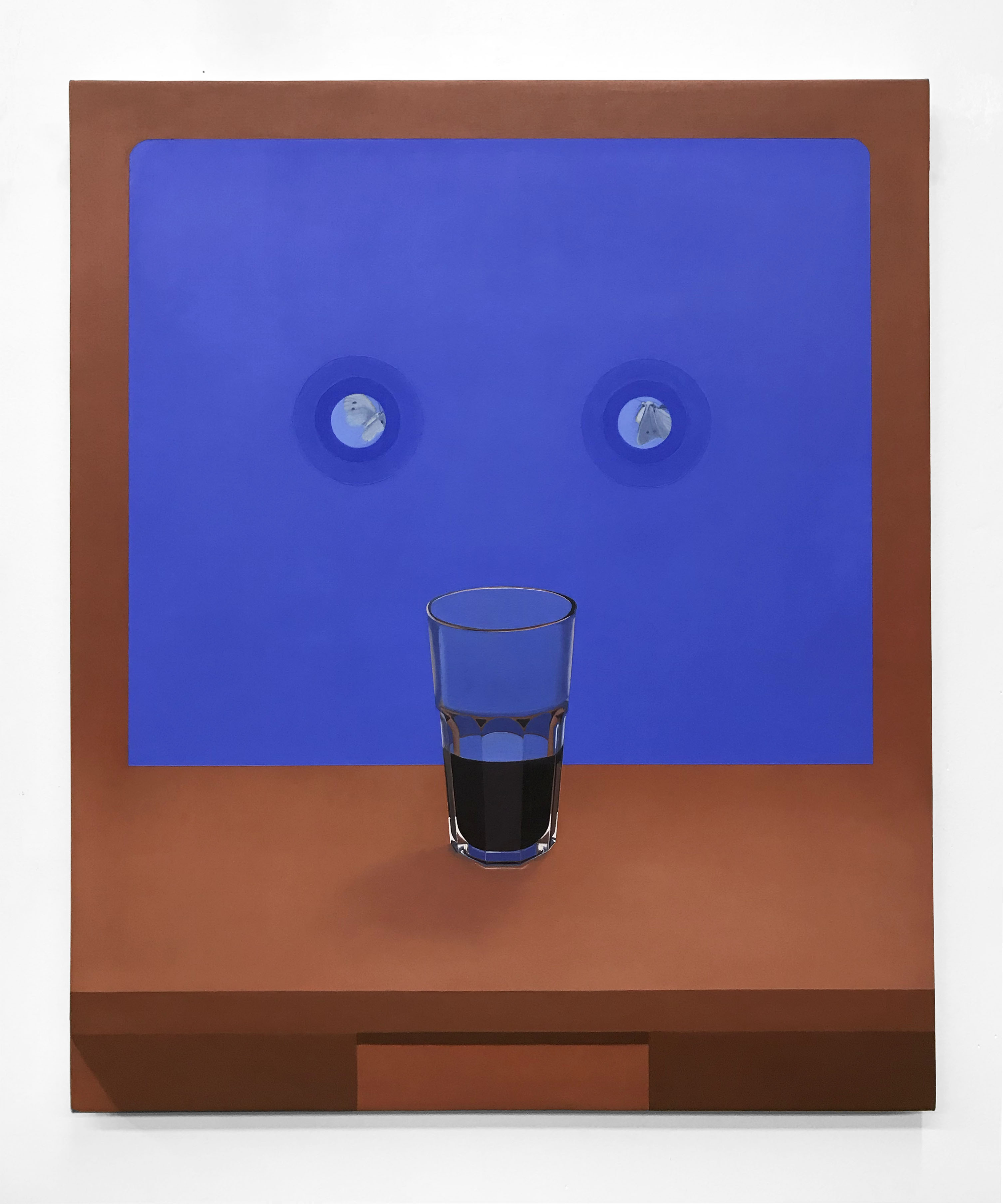 ---
---
︎
PAST:
---
February 23 – March 31, 2023

Pablo's Birthday is pleased to inaugurate 2023 with the group exhibition Time, organized by writer, curator, and artist Ryan Steadman, which showcases the work of Leonard Baby, Joan Boy, Helena Foster, Brandon Elijah Johnson, Sarah Pater, Emily Pettigrew, Giordanne Salley, and Arisa Yoshioka. Time features painters who use techniques, symbols, or imagery that infer a desire to stop, slow down, or reverse time through their paintings. Together, these works ask you to ponder and play with how we perceive the passing of time.

︎ Press Release

105 Hudson Street, # 410
New York, NY 10013
info@pablosbirthday.com

---
September 10 – October 22, 2022

Featuring works by Hiejin Yoo, Bowei Yang, Keanu Kemar Wynter, Sophie Varin, Benjamin Tong, Shin Kyungchul, Sarah Pater, Park Junghae, Eun-Ha Paek, Pia Ortuño, Alex Nguyen-Vo, Sarana Mehra, Adam Lovitz, Candice Lin, Jung Yoory, Jeon Hyunsun, Han Sungwoo, Alex Delapena, Max Cleary, Heather Cleary, Michelle J Chun, Mistuko Brooks, and David Aipperspach. Curated by Cameron Masters. ︎ Press Release

Opening reception: Saturday, September 10, 5-8pm.
929 Cole Ave.
Los Angeles, CA 90038

---
July 21 – September 23, 2022

Opening reception: July 21, 2022.
Lighthouse Works
66 Hound Ln.
Fishers Island, NY

"Everywhere, in the day's last, lingering light, liaisons and arrangements were being made. […] Love comes and goes, pitching its mansion. And on the circular track of days, it appears that Dread is gaining on Devotion every second."

- Joy Williams, Breaking and Entering

This exhibition of new work from Sarah Pater brings together two groups of paintings made during and in response to her time in residence at the Lighthouse Works.

For six weeks between late October and early December of 2021, Pater painted the view of the Fishers Island Sound through the window of the studio at the same time each day. Making these small paintings of the sunset was a way for her to structure her days and devote time to a direct, physical experience of the environment. To paint the changing light as the sun rapidly diminishes involves speed, immediacy, and memory. The shapes of clouds and the particular colors of air and light shift every second. Inevitably, the act becomes one of self-reflection and abstraction, a confrontation with time and looking, and a glimpse of the astonishing phenomena all around.

The cycle of five 12x16-inch paintings consists of more mediated and composed views. The paintings depict a series of still-lifes with flattened, incongruous geometry but for a shared horizon. Sky, water, landscape, and the familiar blunted corners of omnipresent tech products frame hyper-still subjects — half a glass of water, some fruit — on an altar-like windowsill, painted reverently at real scale. The hand-painted, near-textureless surfaces lack visible sequential order in their construction, contradicting the layered mark-making that typically implies painterly time. Color bends from quotidian and observational toward experiential and uncanny. The subjects, when they appear, turn alien and alienated. Taken together, these paintings allude to the circular rhythm of days as they fold from evening into night and back out again.

The snake and the ouroboros — the symbol of a snake swallowing its tail that features widely in ancient iconography — often refer to the cyclical nature of death, life, and regeneration. Snakes can also evoke a chilly sense of lurking malevolence, the snake in the grass. Sometimes a snake is just a snake, a wild animal suddenly encountered on a trail somewhere, passing through.
---
June 13 – August 15, 2022

Amie Cunat, Austin Eddy, Mark Thomas Gibson, Sarah Pater, and Katarina Riesing.
Opening reception: Friday, June 17, 6-8 pm.
2424 Coral St. #221
Philadelphia, PA 19125

"Things are not always what they seem; the first appearance deceives many"

-Phaedrus

For Peep's summer group show, five artists are brought together whose works reveal deeper meanings through symbolism, biomorphic shapes, emotive color and subversive imagery. Amie Cunat's work confronts familiarity by exaggerating or omitting characteristics from an observed source. Cunat's vivid and colorful canvases are filled with swirling biomorphic shapes, appearing like licks of flames, tangles of vegetal growth, and decorative paisleys. Austin Eddy's vibrant painting of birds presents a way to understand the strain engrossed in the human experience—whether we are caged, soaring through the sky, or something in between. Mark Thomas Gibson's work reveals a vision of a satirical, dystopian America where every viewer is implicated as a potential character within our shared narrative. Sarah Pater's paintings reveal familiar scenes rendered strange—the quotidian turning otherworldly, sometimes terrifyingly so. At first glance Katarina Riesing's dyed paintings on stretched silk and colored pencil drawings betray an infatuation with laborious detail and rich material, but the insistence on close croppings, and awkward, unsightly I or uncomfortably erotic aspects of the body, reveal surreptitious squirming.




---



June 18 – July 17, 2022

Ilana Harris-Babou, Kelly Hain, and Sarah Pater. Curated by Ali Osborn.
PULP is pleased to present Light Accumulation, a three-person exhibition that addresses the fragility of concepts like "cool and collected", "peace and quiet", "happiness and wellbeing". The selected artworks present scenarios wherein a tenuous equilibrium has been reached by the steady accrual of ballpoint pen strokes, performed labor, or subjects painted in illusionistic space. In each piece there is the implication that the balance might be easily tipped—the dream turned nightmare, the uncanny rendered real—by the addition of a single extra snail, another tap from a bird at the window pane, or a final swing of the ceramic hammer.

The three artists use a range of media and approaches to arrive at their enigmatic tableaux. Sarah Pater paints facsimiles, at once pristine and unsettling, of familiar forms caught in flattened, near-abstract space: snails crawling across a cool, dark countertop; tapered candlesticks standing, frozen out of time, on an impeccably smooth table cloth. Ilana Harris-Babou sculpts dysfunctional ceramics and films scenes that parody home improvement language to discuss reparations and systemic racism. In Kelly Hain's drawings—there are traditional works on paper and an animated film—black and white worlds undergo such continuous change (from fire, flood, or refraction) that transformation appears as a harmonious constant.

Light Accumulation is curated by Ali Osborn, an artist and educator based in Brooklyn, NY.
---
January 22 - February 19, 2022

Alessandro Teoldi, Alexandria Tarver, Ellen Siebers, Sarah Pater, Japeth Mennes, Matthew Zaccari, Padma Rajendran, Philip Hinge, and Veronika Pausova. Curated by 106 Green (Holly Coulis, Ridley Howard, & Mitchell Wright).
---
February 5 - March 20, 2022

Dexter Ciprián, Christina Graham, Rachel Granofsky, Kirsten Lamb, Caitlin MacBride, and Sarah Pater. Curated by Lauren Whearty.

---
Spring, Baker Gallery, West Chester University, West Chester, PA
August 30 – October 15, 2021

Matt Bollinger, Angelina Gualdoni, Annette Hur, Vera Iliatova, Breehan James, Caitlin MacBride, Sangram Majumda, Joshua Marsh, Sarah Pater, Zahava Rozman, Amy Talluto, and Todd Arsenault/Kristopher Benedict. Organized by Kristopher Benedict.
---
Fitting Out the Outfitters, Accordion Studios, Providence, RI
August 27 – September 27, 2021

Work by David Aipperspach, Anthony Bragg, Irmak Canevi, Steven KP & Tyler Mills, Kris Mortensen, Tyler O'Grady, Sarah Pater, Fernando Pezzino, and Martin Smick.
---

Slow Burn, Baker Gallery, West Chester University, West Chester, PA
January 21 – February 22, 2020

Slow Burn brings together artists whose work rewards in-person apprehension. Through optical subtleties, unusual surface and material interactions, and iterative processes, this work resists quick circulation and reclaims a physical, embodied experience of looking for the willing viewer. Work by Seth Cameron, Anthony Campuzano, Micah Danges, Jessica Dickinson, Angela Dufresne, Ava Hassinger, Dona Nelson, and Richard Ryan. Organized by David Aipperspach & Sarah Pater.
---
February 8 – March 14, 2020

Recent work by Sarah Pater.
---